About Us
What started with Gail Borden Jr. in 1857 as a simple solution for milk distribution quickly grew to become one the largest, most recognized dairy brands in the industry. Along the way, we've celebrated many remarkable milestones, from inventing the first practical method of condensing milk to being the first dairy producer to distribute milk in those timeless glass bottles.
Today, we hold our heritage close to our hearts, staying faithful to our original vision: to bring value — both nutritional and familial — to America's dining room. See, we go back to a time when a man's promise was mightier in word than in writing; when mission statements weren't needed to have a clearly defined purpose; and when the bottom line was to keep children happy and healthy.
We're more than sales goals; we're 150 years of good values, passed down from generation to generation, and we hold our company to them. Our commitment to quality and freshness is our way of sharing our family pride, from our kitchen to yours.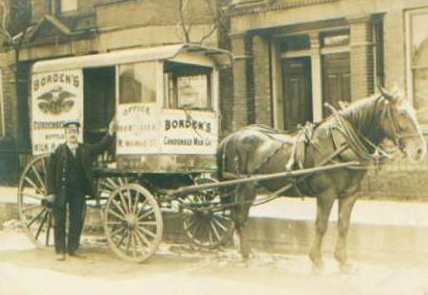 ---
About Elsie
The story of Elsie began in an era of great industrial strife when big dairy processors were portrayed as evil moneymakers and while industry public opinion was at an all-time low.
Elsie the cow, America's favorite spokescow, was first introduced in a 1936 print advertisement as a means to put a friendlier face to the brand, or at the very least make people smile! The public took to her charm quickly and by 1939 the real life Elsie – a stunning seven-year-old blue-blooded Jersey from Brookfield, Massachusetts – made her debut at the World's Fair. Since then, Elsie has married a handsome bull named Elmer and has had three beautiful children: Beulah, Lobelia, Larabee and Beauregard.
A personality in her own right, Elsie's character later came to symbolize the trust, quality and freshness of all Borden products. While maintaining her sass and wit throughout the years, Elsie has resonated with thousands of moms nation-wide, providing parenting tips, sharing recipes and spreading her bovine wisdom with the world – or as she calls it, "Elsie-isms." Advertising Age even named her "one of the top advertising icons of the century."
Elsie continues to make moms and kids smile across America. To learn more about Elsie's history, follow her on Facebook or Pinterest.
For general inquiries, please call 1-855-311-1583